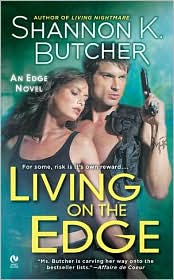 After a devastating injury, Lucas Ramsay knows he's finished as a soldier.But when the general who saved his life asks him for a favor, he says yes. All Lucas has to do is keep the general's daughter from getting on a plane to Colombia -- which is easier said than done...

Independent to the core, Sloane Gideon is a member of the Edge-a group of mercenaries for hire. But she's not on the clock for this mission. Her best friend is being held by a vicious drug lord, and Sloane must rescue her -- no matter how many handsome ex-soldiers her father sends to dissuade her.

With little choice, Lucas tracks Sloane to Colombia - where she reluctantly allows him to aid her in her search. But as they grow closer to the target, they grow closer to each other. And before the battle is over, both will have to decide just what they are willing to fight for.
-------------------
Perhaps the tide is turning. This one wasn't too bad. I've read a few of Butcher's books before (and I love her husband's Dresden Files series) and while the first couple were good, they did slip for me. My sister and I disagree about the debut of this new series, however. I thought it was decent, she found it underwhelming.
Lucas and Sloane seem to be well matched. From the first time she gets the best of him, I liked them both. I honestly don't know what else to say except that it's your run of the mill romantic suspense with a twist that will continue throughout the series. There are a lot of characters introduced, which proved a bit confusing for me at first, and hints about a serious project of some sort that happened in the past. If I could change anything, it would be to make that part a bit clearer. I read the book and still don't get the Edge or whatever this past experiment is.
I hope that the series will improve. But, at the very least, she's written a debut good enough to keep me interested.