Look what I've got here - two reviews at once! Neither of these books is new, but they were new to me. :c) And I did warn you that I've been reading a lot of Blazes.
Hard body? Check. Awesome-night-in-the-sack potential? Check! Hayden Houston is breaking out of her good-girl mode. It's time for a one-night stand--and she's found just the man for the job! She spent her childhood being dragged from rink to rink by her hockey-coach father. Now Hayden craves stability. And she's determined to get it--after this one night....

When hockey star Brody Croft sees the sexy brunette at the bar, he's riveted. He's ready to shed his bad-boy ways and settle down. And after a mind-blowing night in bed with Hayden, he knows she's the one.

Now all he has to do is convince her....
I'll be the first to admit that I'm a sucker for sports romances. I've read boxing, baseball, football, and hockey romances (no soccer or basketball yet, got any recommendations?). For the most part, the authors either focus too much on the sport or pretend it doesn't exist (and if that's the case, why bother making them hot athletes?). Elle Kennedy did neither here, but the story still left me wanting. I'm not quite sure what went wrong here. The story starts off well enough, with Hayden picking up Brody in a bar. The relationship and issues within it are good. Which leaves everything else. I think Kennedy takes on too much here. Without giving away the story, she introduces to other major issues in the story that have to do with the investigation going on throughout the book. My problem with it is that they're serious, but a bit swept aside. It's possible that she was trying to make it more real, but I think the book would've been better off without that much outside drama.
---------------------------------------------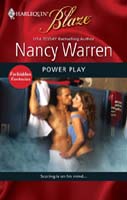 Keep her hands to herself?

Not easy for Emily Saunders, who's in Elk Crossing, Idaho, for a family wedding. She's double booked in the same hotel room with a sexy cop attending--of all things!--a hockey tournament. As a massage therapist, Emily's soon itching to soothe Jonah Betts's gorgeous muscles--both on and off the ice.

Jonah can't believe his luck--a sexy single woman sharing his cozy room, albeit temporarily. Okay, her orange bridesmaid dress is a disaster and her family is convinced he's actually her boyfriend. He's ready to go along with it even as he makes his play....

Until Emily is suddenly calling for a TIME-OUT! Will Jonah's fantasies be permanently iced?
I'm happy to say that I enjoyed this one a bit more. The cover and blurb are a bit misleading. Jonah being a recreational hockey player isn't the focus at all. It's really just an interesting way to get the characters where they are and add a bit of flair. The story could've been almost the same if he was a businessman on a work trip. But making him a hockey player is sexier, I guess. Nancy Warren does right what Kennedy did wrong. The two have time to get to know each other and I have a soft spot for stories where there's a pretend relationship, I don't know why. Warren tosses in a twist that allows Jonah's cop side to make an appearance. Overall, it's a fun, quick read.